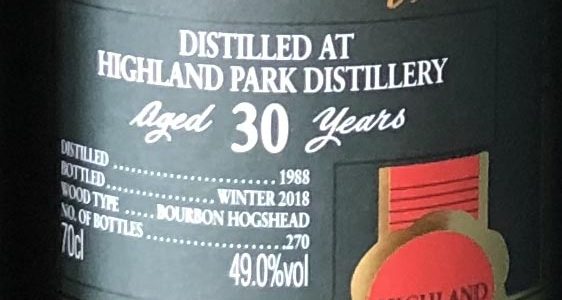 Hype, Hyper, Highland Park
Once again, a tasting of one of my favorite distilleries, Highland Park. Although I have to say their current marketing seriously irritates me. The last straw being the offer of the highly collectible HP 18 (last year's version) with a bloody certificate for 115 pounds to inner circle members and their never-ending stream of ultra-limited whatever editions. So I usually end up buying older or independent bottlings but I am not giving up hope that HP will come back to their old strength and just create cracking whisky rather than the being the marauding Vikings of Marketing and weird woodworks. Fire and Ice anyone?
Highland Park 17 The Light – refill American oak casks – 52.9% Link zur Whiskybase
So what better way to start this session with one of these marketing driven creations. The 17year old "The Light" which was released last year following "The Dark". The later one was, well quite disappointing and this one is supposedly much better.
Nose: Citrus, wet grasslands after a fresh spring rain
Mouth: Loam and stones, followed by Licorice and orange marmalade
Finish: Herbs, Anis and Pepper, long and a little bitter
This is a nice whisky indeed, and it proves the point that HP can create great whiskies even if they feel they need to hide them in really beautiful and pricy bottles. I still believe the price of 175-200€ is pushing it, but on the positive side it is still available.
Overall: 88

Highland Park 30 Cadenhead Authentic Series – Bourbon Hogshead – 49% Link zur Whiskybase
From the light we turn to the oldest and probably most famous indecent bottler Cadenhead and their recently released 30 year old. I love it how the can still constantly push out amazing bottlings and rarely disappoint. Every time their newsletter comes I am getting excited!
Nose: And interesting mix between fresh notes of fruits, furniture polish, citrus and cucumber being underlaid by Leather and Raisins
Mouth: Same thing frutiy notes, hidden behind leather
Finish: Long and mild
I really liked it. Not an epic whisky but really nice and with a very reasonable price point of around 280€. Not sure if I am happy or sad that this feels like a bargain but the 650€+ you have to pay for the original bottling (at 46%) is ridiculous. I much rather take two of these any day. Surprisingly it is still available in some places, so I might actually do that
Overall: 89

Highland Park 1989 GM Connoisseurs Choice – Refill Sherry Butt 57% Link zur Whiskybase
Last but not least a whisky which has been hyped quite quickly after the release. Crazy how quickly these bottles fly of the shelves these days regardless of their price rand. I remember how Tobias pointed it out to me that I should better have an eye on this one … well I deemed it too expensive and was not really paying attention. Great, so now I had to pay an arm and leg to get a sample and a sealed bottle … Still trying to figure out on how to blame this on Tobias 🙂
Nose: Raisins, Cedar wood
Mouth:
The 57% are quite powerful and you get this typical HP aroma of heather almost instantly, mixed with spices and oak aroma. A little bit of coffee, or more likely really strong turkish mocha. There are some sherry notes but not much, probably due to the refill barrel, but this is a good thing in this case. All is finished by some lovely smokiness with the more relax peat levels of HP compare to Islay.
Finish:
Quite long, with a nice sweetness. Now the sherry cask pushes through and lingers on the tongue as a oily sweetness of spices and oak, some fruits (oranges or maybe cherries). It last quite a while and then you are immediately drawn to the next sip.
At the original price point of around 300€ a goof value by today's standards, now you are looking at around 450€ and if you are a fan of HP it might still be worth. This might be one of the bottles which will be sought after the next years. Full disclosure I am owning the significant stake of one closed bottle for which I paid 400€ … Crazy but I will drink that. However this puts my plan of any additional bottles of the Cadenhead HP 30 at rest …
Overall: 91
Overall quite happy with this session and it was good to remind me why I (used to?) love this distillery. Still on the fence with their current policies and releases … Früher war alles besser.